Brother Greg Yancey
Administrator
Our Mission
"Train up a child in the way he should go: and when he is old, he will not depart from it."
Proverbs 22:6 (KJV)
Holy Ground Baptist Academy
1355 US-27 N
Roopville, GA 30170
Telephone: 770-854 4659
Welcome to Holy Ground Baptist Academy's website, home of the
Holy Ground Stallions
Copyright © 2008-2014 Holy Ground Baptist Academy. All rights reserved.
Website developed and maintained by Charlie Houp
Please consider a charitable donation to a worthy cause.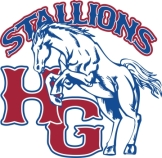 Holy Ground Baptist Academy (HGBA) is a ministry of Holy Ground Baptist Church


Click on Calender to display
Traditional Classroom
Holy Ground Baptist Academy provides students a traditional classroom setting with a solid Christian foundation from preschool through high school.

Notices - Events - Fundraising

Before you shop at leading local stores or web based stores, Help HGBA by clicking on the button below first.