Overview


Holy Ground Baptist Academy (HGBA) is a ministry of Holy Ground Baptist Church.

Founded in 2005, the academy opened with 23 preschool students and two K5 students. God has richly blessed our academy since its founding, we now offer preschool through 12th grade.

Using the A Beka curriculum exclusively, along with traditional classroom instruction, the Academy has earned the distinction of Accredited with Quality by the Georgia Accrediting Commission. It is recognized by the Georgia Board of Regents and the HOPE Scholarship and is a member of the Georgia Association of Christian Schools. In addition, the Academy participates in dual enrollment with West Georgia Technical College.

Our Mission is to educate and develop children of high moral and ethical character through the application of Christian principles from God's Word. We strive to put into action Proverbs 22:6: 'Train up a child in the way he should go: and when he is old, he will not depart from it.'

The Academy does not discriminate on the basis of race, color, gender, religion, national or ethnic origin, in its admission policies, educational programs, or extra-curricular activities.

Copyright © 2008-2015 Holy Ground Baptist Academy. All rights reserved.
Website developed and maintained by Charlie Houp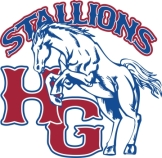 Holy Ground Baptist Academy
1355 US-27 N
Roopville, GA 30170
Telephone: 770-854 4659

About HGBA