Copyright © 2008-2015 Holy Ground Baptist Academy. All rights reserved.
Website developed and maintained by Charlie Houp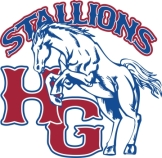 HGBA is accredited by the Georgia Accrediting Commission (GAC) with an 'Accredited with Quality' status for grades K-12. The GAC is recognized by the University System of Georgia.


Georgia Accrediting Commission

The Georgia Accrediting Commission has provided and continues to provide leadership for education in Georgia. The accrediting process stimulates local schools and school districts to provide better and safer physical facilities and to improve the qualifications of staff members, teaching conditions, and curriculum. It also provides a valid means of judging the quality of schools. As a result, the academic credits of students who transfer between accredited schools can be accepted without special examination. Accreditation by the Georgia Accrediting Commission has always been a way of recognizing schools with good educational programs. Its standards continue to serve as guides for those who want to develop good programs.


Georgia Department of Education

HGBA is recognized by the Georgia Department of Education as a private school system. Visit the GADOE website to view the list of Private Schools in Georgia.


University System of Georgia

GAC Accreditation is recognized by the University System of Georgia's Board of Regents. Alumni of HGBA are eligible for college admission and federal and state financial aid as well as the HOPE Scholarship.

Click here to visit the Board of Regents site.
Holy Ground Baptist Academy
1355 US-27 N
Roopville, GA 30170
Telephone: 770-854 4659
Accreditation
Quick Links:

GAC - Georgia Accrediting Commision

GADOE - Georgia Department of Education

UGA - University System of Georgia

AACS - American Association of Christian Schools

GACS - Georgia Association of Christian Schools